Using to Assently Web Automation you can easily publish a form that your customers can fill out and sign on your own website.  
Create a template
1. Go to Templates and create a new Form template.
2. Upload your form. It needs to be in PDF format and have fillable fields. 
Who should be the issuer?
Choose who should be the issuer of the form. It can be a person at your company or a shared inbox. If you have notifications enabled for the form, all emails will use the issuers name as sender. E.g. "Member Service via Assently".
Examples of issuers 
Go to Account settings->Agents to send an invitation to the issuer (who is an Agent in your Assently account).
Pick a role for the issuer that has the right permissions (e.g. an Limited Agent). After the invitation is sent, you need to confirm the email address and choose a password.
Notifications
Configure the notifications that are sent for the forms. Should the person signing the form get a copy? Would you like to receive notifications to another email address for all signed forms?
Activate and publish the link
In the Web Office, go to Templates -> Template -> Enable Web Automation. When you click that link, you will get the short link for you to publish on your website!  
Once activated you can Change contact person to the issuer you invited.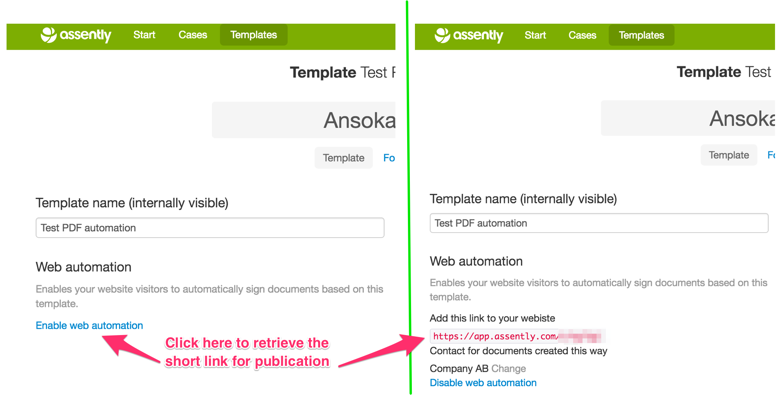 Publish the short link on your website.
NOTE! There's one important thing to note regarding the published link. The link will have this format: https://app.assently.com/t/xxxx. This link is a so called "short link" (or public link), and each time a person visits to that link, a new unique link is generated. The unique link is a lot longer than the short link, so it is easily recognized in the URL field or in the browser history. The unique links are never to be published. Only publish the short link! This is especially important if the form you're publishing asks for sensitive information.
Are you interested in connecting your published form using API's? Read all about it here!