Assently E-Sign integrates with the Microsoft Power Platform, allowing you to make flows in Microsoft Power Automate (Flow). These flows can be triggered by E-Sign, or perform actions in E-Sign based on other triggers. Find information below on how to enable the add-on in E-Sign, setting up a connection and creating a flow.
Enable Power Automate on your E-Sign Account
Ask Assently to enable Microsoft Power Automate (Flow) if you don't already have it set up for your account.


Set up a Connection
A connection is set up for each E-Sign Account you want to use in Microsoft Flow.
Go to your profile to generate a Personal Access Token.

Make a new connection by going to The Assently E-Sign Connector. Provide the connection with a name (such as the name of the E-Sign Account) and the Personal Access Token.

Working with Flows
A sample flow: Save Finished E-Sign Cases to Google Drive
In this sample flow, finished document from an E-Sign account is saved to Google Drive. It consists of three steps.
When a Case is finished
Download the document…
… and save the file to Google Drive.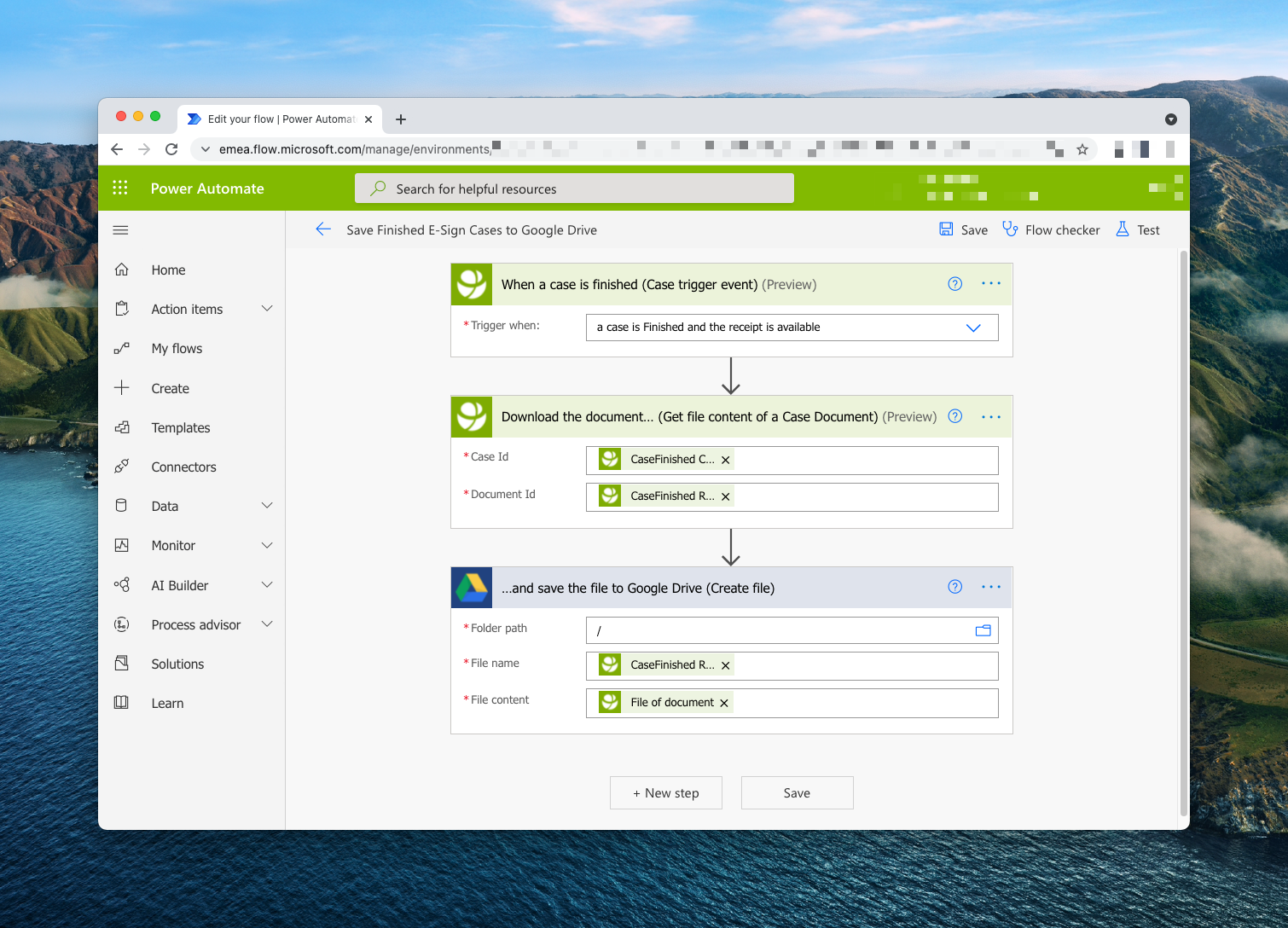 Set up a flow
There are three ways to set up flows. You can start blank, use a template, or start from a connector. The best way to set up your flow depends on what you want to achieve.
Start from blank
Log on to Microsoft Flow.
Choose Create and Automated cloud flow, Instant cloud flow or Scheduled cloud flow.
For this example we'll use an Automated cloud flow.

Search for Assently in the "Choose your flow's trigger" field and choose "Case trigger event" and Create.

Choose "a case is Finished and the receipt is available" in the "Trigger when" field.

Choose "+ New step" and choose what operation you want to happen once a case has been Finished in your account.

The next step can be something available in the E-Sign connector or in another connector available in the Microsoft Power Platform.
Links