Where do we use cookies?
We only use necessary cookies in our service. Using cookies will give you and the user all around better experience when signing into our service, when authenticating using bank id's and when you sign cases.
We do not use cookies for analytics.
I get an error when I try to use the service or when I try to sign a document?
Check you browsers settings that you have cookies enabled to our website. Also you should check your browsers security level. Higher the security level, browser will automatically disable cookies from sites without you even noticing.
Chrome, Edge and Opera browsers
Go to the seach bar on the top of your browser and search for an icon of lock.

Clicking that icon you will get a popup for the sites security and cookies and site settings: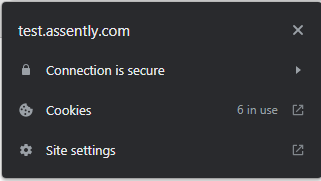 Click the "Cookies" button and you a new pop up will open at the center of the screen: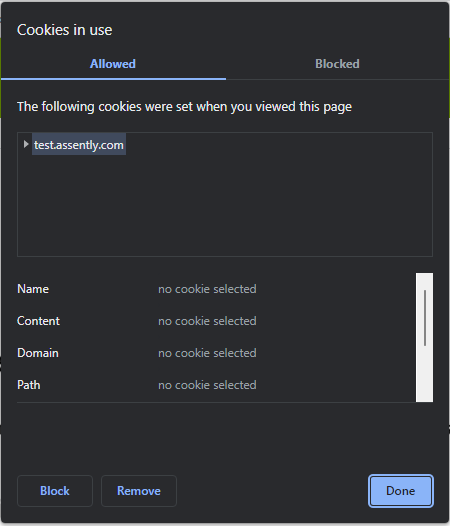 In this window you will see two pages:
Check that you have cookies in the allowed section. If not check the Blocked window and re-enable cookies for our site.
Firefox browser
In browser that are not powered by chromium the steps are going to be a little bit harder. You will need to go to the browsers settings and check cookies from there.
First open up browsers Settings and click from the left side navigation bar "Privacy & Security"

Find from the page "Cookies and Site Data":

Click the "Manage Data..." button and you will get a pop up of allowed cookies. If you see "assently.com" in there you have cookies enabled. If not, choose "Manage Exceptions...". If you see "assently.com" there you have disabled cookies in all "assently.com" pages/sites. Re-Enable them by removing the exception.
Our service should now work as intended
Still have problems?
Send us an email to support@assently.com
We will help you as best as we can so you can continue to use our service.